Who are we?
Three translators from three global regions – USA, United Kingdom and Australia – our careers led us to the crossroads of Europe, Lille in northern France.
As members of the SFT, the French association for professional translators, we met and bonded at industry events and training conferences.
Our international trio represents the English-speaking world. With wide-ranging specialisations and experience, we devise pertinent and precise English content for French businesses wanting to promote their image and communicate globally.
We believe that high-quality, professional translation, revision and interpreting services provide compelling leverage for French organisations on the international scene.
Your content receives our uncompromising attention. Style and terminology are paramount which is why we only translate from French into English in our specialised fields.
Our personalised approach with stringent project management guarantees added value. Creativity is fuelled by brainstorming sessions where three heads are better than one.
Who is the Dream Team?
The quick answer is Anne-Frances, Caroline and Elizabeth (Lizzy for short).
Having grown up in the United States and France, I am completely bilingual and bicultural.
Following a degree in economics at CPSU and an MBA in marketing at George Washington University, I launched my career stateside in legal administration. In 1990, I landed in Lille where I broadened my experience in diverse sectors. I managed the French subsidiary of a consumer products testing lab before moving to a digital agency where I upskilled in SEO and e-commerce. My way with words and keen eye are crucial when translating and proofreading for fashion and the web. Certified by the Douai Court of Appeal, I also work as a translator and interpreter for the French justice system.
My downfall is good chocolate which I always have within arm's reach of my desk.
Having immersed myself in Modern Languages at Durham University, I studied law at City University and the College of Law in London. I qualified as a solicitor in 2000 at Herbert Smith. As a young lawyer, I worked on disputes relating to banking, oil and gas, and pharmaceuticals. I then moved to West End law firm Harbottle & Lewis to deal with disputes relating to the world of media and entertainment.
Since 2016, I have been combining my legal and linguistic skills to help businesses in England and France with contract review and legal translation. For French clients, I translate all things legal as well as interpret for the French police and court services.
When I am not reading up on the GDPR, I enjoy a good Jack Reacher novel and a cup of tea, as well as attempting to train my wayward Labrador and three children.
My only ambition growing up was to be French. This was the driving force that brought me here in 1992 from Australia.
Once manager of a bilingual recruitment firm in Paris, I then ran a boutique hotel where I wore all the hats and gained diverse business experience. In 2015, I earned my Masters in Translation from the University of Lille. I now provide effective marketing and communication translations and content to a wide variety of businesses and institutions. A founding member of the Dream Team, I contribute a keen sense of organisation and precision with my strong timekeeping skills. Perpetually curious, I leave no stone unturned in researching and selecting the right word for my fields of interest: marketing, international commerce, human resources and science.
An exuberant epicurean, my Italian roots come to the fore when enjoying time with family and friends.
TRANSLATION
Our bespoke translation service does justice to the time you've invested to produce hard-hitting and top-quality texts. Don't risk your brand image with low-cost, unprofessional – or worse – automatic translations. Our in-depth knowledge of specialised fields guarantees precisely crafted and meticulous translations to seamlessly enter English-speaking markets*.
*For the grammar geeks amongst you, this split infinitive was the subject of a typical Dream Team debate about the advantages of punchy impact over complying with grammar rules. For more: https://getitwriteonline.com/split-infinitives/.
CERTIFIED TRANSLATIONS AND INTERPRETING
Administrative bureaucracy is complex and when asked to provide official or certified documents, it's easy to be overwhelmed by the system. Our interpreting and translation services comply with legal regulations. Court-certified by the French, we provide the documents translated as required for your administrative procedures.
INTERPRETING
We provide interpreting services in French and English for company training sessions, negotiating contracts or discussing marketing strategy. We ensure that you connect with your interlocutors and the dialogue flows. Dream Team Translations is your trusted partner for successful bilingual exchanges.
PROOFREADING AND EDITING
The risk of making a faux pas when writing in a foreign language is perilous. Press releases drafted in-house or presentations for international partners require review by native English-speakers despite your careful preparation. We provide proofreading and editing services to hone and polish your English texts. Our flawless grammar and coherent style add value to your documents for effective corporate communication.
COPYWRITING
Excellent copywriting is one of the most powerful tools for your communication strategy. Quality and relevance are vital when it comes to scoring points with English-speaking clients. Precise and concise, our copywriting services mirror our approach. We combine scrupulous and thorough research with irreproachable subject knowledge to ensure hard-hitting copy that flows naturally.
TRANSCRIPTION AND SUBTITLES
Video content is omnipresent and growing exponentially. Quality subtitles and transcriptions are crucial for effective and inclusive communication. We transcribe and translate audio and video content and provide subtitles to help you successfully target your audience.
Sectors
You take your business seriously – we do too. With our qualifications and experience in a range of sectors, we meticulously research subject matter and speak to your target audience. By constantly honing our expertise through continuing education, we capture the nuances of your activity. We match your professionalism to help you prosper internationally.
Communication: websites, brochures, magazines, videos, newsletters, press releases, reviews and articles.
Marketing: product information sheets, e-commerce content, SEO, catalogues, advertising and sales promotion.
Technical: operating manuals, training documents, activity reports, technical specifications sheets, guidelines and procedures.
Legal: contracts, certified documents, leases and notarial acts and weddings.
Our proven track record:
LEGAL
Criminal
Civil
Business
administration
INSTITUTIONS
Higher education
Financial bodies
Regional development
TECHNICAL AND INDUSTRY
Agri-food
B2B
Waste management
Supply chain and logistics
INNOVATION AND TECHNOLOGY
INNOVATION AND TECHNOLOGY
Green transition
Sustainable development
Urban transformation
Climate change
CONSUMER GOODS
Fashion
Tourism
Hospitality
Retail
BUSINESS MANAGEMENT
Human resources
CSR
ESG investment
Quality assurance
Testimonials
Caroline translated our quality manual in 2017 and then the updated version in 2018. Caroline was attentive, responsive and efficient.
Anne-Frances is the consummate professional. She is preoccupied with choosing accurate wording that is specific to the sector…complemented by her full command of business English. Timely turnaround guaranteed.
Thanks to Caroline's responsiveness, I was able to complete this project before leaving TALM. I will keep her in mind for translation services in my next position.
With regard to the charter contract, the translation was excellent, as I would expect from Lizzy. In fact, this is one of the best I have ever received in English and it saved me a lot of time re-reading. All the terms were correct, which is rare, and the layout remained exactly as the original. Ideal.
The delegation's arrival in the Ports of Lille went well and we greatly appreciated the quality, adaptability and professionalism of Anne-Frances's services. Several delegation members were very positive about the quality of the interpretation. We will call again on her services in the future.
Caroline fully prepared and researched her translation to do our texts justice. She also consulted with me to ensure she targeted the audience appropriately. I also appreciated her respect for deadlines. We are fully satisfied with the result.
Caroline Lefour translated the RESOUTH report for Fondation Energies pour le Monde. She was responsive in her communication and delivered a high-quality translation.
Lizzy did a fantastic job interpreting for me at this conference. It was clear that she had spent considerable time preparing for the event to ensure that she understood my purpose, my approach and my jargon. She worked alongside me, enabling me to engage with members of the demonstration group, as well as handling questions and comments from the audience. A big thank you to her for her professionalism, skill and support.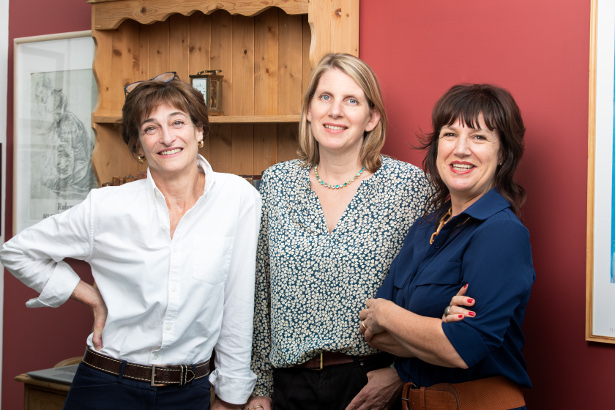 Request a customised quote
Your business is unique – so is our service.
We tailor our quote to reflect your needs, the complexity of your texts, the research required, your timeline and any other criteria. Working with us directly is more efficient and avoids any middle-man costs. Depending on the type of assignment, we quote by the word, by the hour, or for a complete project.